Update: I disabled all of the tasks except the ones that had failed when I ran the package from the job, then tried to run the package from my desktop.  Same setup as on the server: DSN uses the 32-bit ODBC driver, same login credentials. I am getting the same intermittent errors: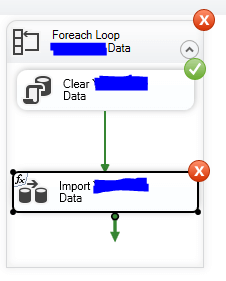 When I go into the data flow task that failed, everything shows as having succeeded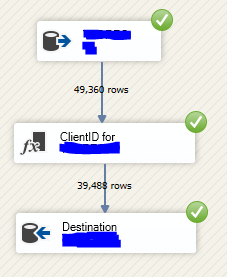 But the progress tab shows the following:
[SSIS.Pipeline] Error: SSIS Error Code DTS_E_PRIMEOUTPUTFAILED. The PrimeOutput method on
returned error code 0x80004005. The component returned a failure code when the pipeline engine called PrimeOutput(). The meaning of the failure code is defined by the component, but the error is fatal and the pipeline stopped executing. There may be error messages posted before this with more information about the failure.
(and again, that is the only error message that comes up)
This happened on two of the four tasks that I left enabled in the package.
Jennifer Levy (@iffermonster)