Hello friends, and happy TurkeyDay,
I have a database used for reporting, a subscriber, that occasionally has mismatch records, and I'm trying to find out why. Why they keep getting out of synch.
Setup:
Both Publisher and Subscribers: SQL2016 SP2 CU15.  Windows Server 2019. Same datacenter, same subnet, so nothing too complex
Distributor in the same server as Publisher. Push Subscriptions. jobs [Agent history clean up: distribution] and [Distribution clean up: distribution] enabled and running with the default values
There are several Transactional Publications on the main database, but nothing overlapping, and all point to the subscriber.
The subscriber's tables are only written by replication, and each table has only one subscription (so no convergence replication or merge replication)
What I've done
About once a day I run a count on a particular table, and the counts are off, so then I ran tablediff.exe and shows a lot of mismatch rows.. anywhere from a couple dozen to a few hundreds.
I checked the latency, and it look good, only a few seconds, at that time. However in times of high Publisher activity it can climb up to 20 mins, but it eventually catches up. After those spots of latency, tablediff shows no difference so it's not happening then.
I inserted a tracer token and it looks good. There are no errors on neither of the jobs, replication monitor, etc.
The Distribution Agent history, "Distributor to Subscriber History section" shows "Skipped X error(s) when applying transaction a the subscriber"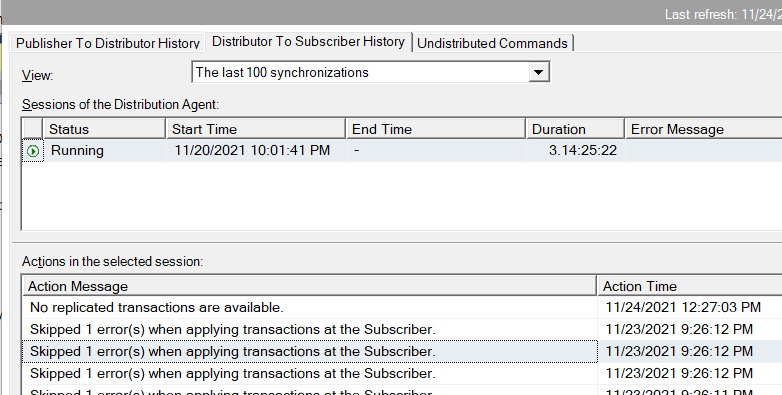 The "view sync status" section keep showing no errors, most of the time "no transaction available"
If I try to validate the subscriptions, it shows me that might be out of synch:

The only thing I can find is a deadlock on the subscriber. Our SQLSentry thing only captures long running deadlocks so I'm sure there are more, and that's the cause of my problem, but I still don't know how to prevent it.
Sometimes I'm able to capture it like this: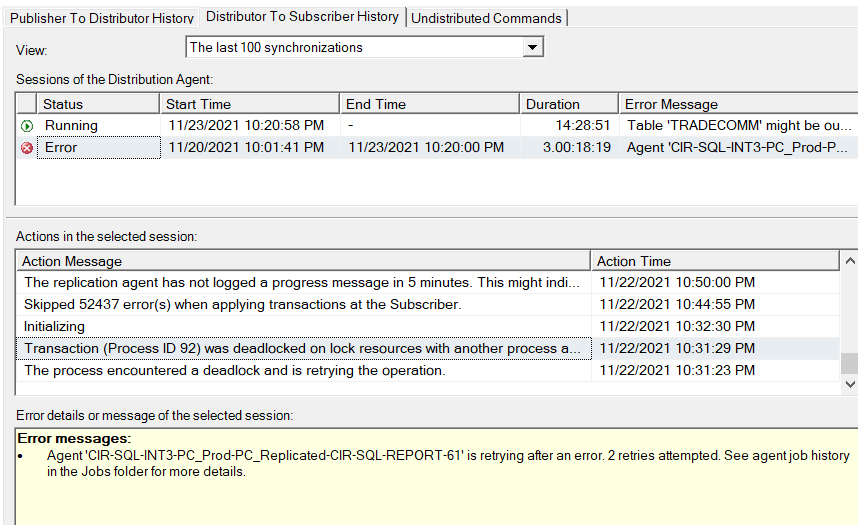 The Read Committed Snapshot Isolation setting is set to FALSE on both Publisher and Subscriber. So I changed the RCSI to true in the subscriber but I still got deadlocks.
What I need
First to all, I need to figure out how I can stop getting deadlocks and mismatch data. I mean, I eventually run the output of tablediff to sync the tables, and occasionally I just re-ran the snapshot, but I keep having the issue.
I figure I could improve performance and look at this article:
https://red9.com/blog/performance-tune-sql-server-replication-checklist/
but before start tweaking, I would like to measure performance, so I can tell if any changes I make do things better (other than presence/absence of deadlocks.
Too many websites about how to fix Replication when it doesn't work at all, but can someone point me to a URL where I can learn what to measure on Replication?
Thank you ALL
Miguel