Good Morning - I have a SQL Server 2014 that I inherited that I use as backup server.  I would like to use it but MSSQLSERVER service will not start.  It worked several months ago but it really just sits, neglected, until someone needs it.  I cannot log into SSMS to use any of the utilities there so I am kind of at a loss.  Please note, there are no backups of this server.  My production server is backed up on a regular basis.  This server is used for testing only.  When attempting to start the service, I receive this error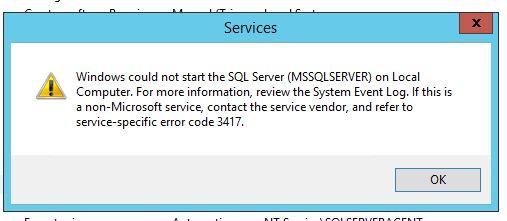 In the SQL Server Error Logs, there are a variety of errors beginning with this one:
SQL Server detected a logical consistency-based I/O error: incorrect pageid (expected 1:21901; actual 0:0). It occurred during a read of page (1:21901) in database ID 8 at offset 0x0000000ab1a000 in file 'E:\APPS\Program Files\Microsoft SQL Server\MSSQL11.MSSQLSERVER\MSSQL\DATA\DatabaseDat.mdf'. Additional messages in the SQL Server error log or system event log may provide more detail. This is a severe error condition that threatens database integrity and must be corrected immediately. Complete a full database consistency check (DBCC CHECKDB). This error can be caused by many factors; for more information, see SQL Server Books Online.
Then this one:
Script level upgrade for database 'master' failed because upgrade step 'msdb110_upgrade.sql' encountered error 824, state 2, severity 24. This is a serious error condition which might interfere with regular operation and the database will be taken offline. If the error happened during upgrade of the 'master' database, it will prevent the entire SQL Server instance from starting. Examine the previous errorlog entries for errors, take the appropriate corrective actions and re-start the database so that the script upgrade steps run to completion.
2020-06-04 10:03:27.98 spid7s Error: 3417, Severity: 21, State: 3.
2020-06-04 10:03:27.98 spid7s Cannot recover the master database. SQL Server is unable to run. Restore master from a full backup, repair it, or rebuild it. For more information about how to rebuild the master database, see SQL Server Books Online.
While I am very familiar with SSMS, I have no idea what to do with these errors if I cannot access it.  That is why I posted in the newbie forum.  If I am in the wrong place, please let me know.  I would really appreciate it if someone could assist me with this issue.  Thank you in advance for your help.  Please let me know if I can provide any other information.