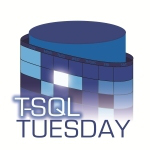 It's T-SQL Tuesday time again! This edition is hosted by Malathi (blog|twitter) and the subject is looking back at the past year.
So what do I have to be thankful for? A couple of quick thoughts:
Power BI Desktop finally has included the decomposition tree visualization! It was the last piece of the puzzel: PerformancePoint had it, but it was missing in Power BI for years. Now there's no excuse to use SharePoint BI (or what's left of it). Hoozah. Of course there are many more features released this year for Power BI; too many too mention. I'm really happy the Power BI team keeps cranking out features every month.
I got to speak at DataGrillen this year (formerly known as SQLGrillen). It's a fantastic event and I met a lot of great people from the #SQLFamily. Interesting sessions and above all: nice beers.

There were other cool events as well: Techorama, Dataminds Connect and Cloudbrew this Friday.

The Azure-SSIS Integration Runtime start-up time went from 30 minutes to 5 minutes. Awesome.
Azure Data Factory has put mapping data flows in general availability. If you want to create big data transformation pipelines, the days of writing code are over.
There is finally a preview of Power Query in SSIS!
I hope there's much more to come in 2020!