Back in March 2020 Glenn Berry created the #SQLFamily Folding@Home team and many of us joined in donating compute cycles to helping find a cure for various diseases to include the COVID19 virus.
Many of us felt anxious during the start of the pandemic and this helped give us something to do to help. As many of you know, I myself started 3D printing ear savers to donate to medical professionals, teachers, and others.
Glenn's project has not generated over 18.57 Billion credits and the #SQLFamily team is now in the top 100 of all teams. Several team members have generated over 1 billion credits themselves. Take a look at the top 20 of the SQLFamily team, all with over 100 million credits, plus our #100 Rank! Well done team!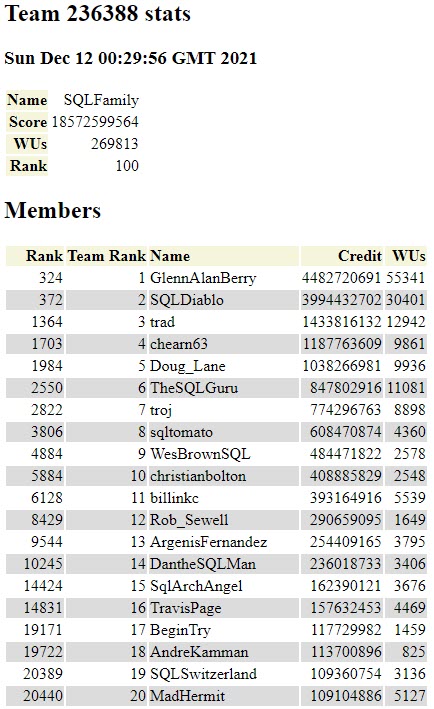 All it takes to generate big numbers is a decent graphics card. CPU can certainly generate credits, but higher end graphics cards really make it count. For example, my Ryzen 3950 (16 core 32 thread) CPU generates approx. 278k points per day, my GeForce RTX 3060 generates 2.3 million points per day, and my GeForce RTX 3070 generates 3.9 million points per day. I mostly keep my CPU turned off due to heat. Glenn has lots of tips and tricks to help optimize your workstations for Folding@Home credits
The post SQLFAMILY Folding@Home Makes Top 100 Team appeared first on Tim Radney.