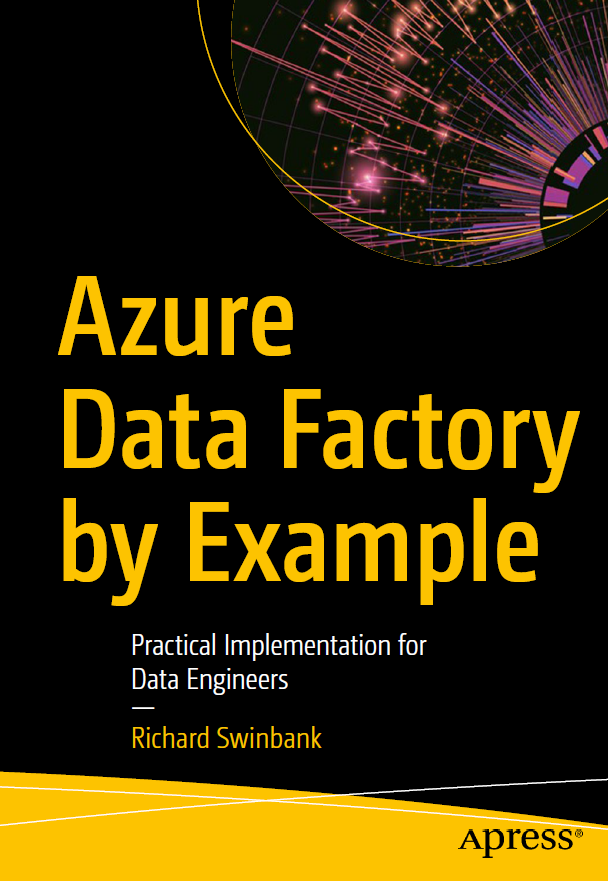 I just finished the book Azure Data Factory by Example: Practical Implementation for Data Engineers by Richard Swinbank. The book was not exactly what I was expecting, but that's actually my fault and not the book's. The book itself is great and is a great introduction to Azure Data Factory (ADF) and it covers almost anything you need to know about ADF. I bought it after reading just the title and expecting it was more a book explaining patterns. Something like: "this is a problem, this is how you design the solution and this is how you implement it". Like the very excellent SSIS book Microsoft SQL Server 2008 Integration Services: Problem, Design, Solution. But this was not the case, it's an introductory book about ADF and it starts from scratch. The example part in the title is because all of the concepts are explained through examples. If you want to follow along, you need to read the book from front to cover, as they build upon each other. Anyway, that will teach me to not read carefully the description of a book before I buy it.
Do I regret buying the book though? No I do not. It's a great introduction and although I was already familiar with most of the concepts, I definitely picked up a few things along the way. Especially the later chapters, about triggers, publishing and logging & monitoring were very interesting to me. I think the only thing missing was a bit more detail on how to cost optimize your solutions in ADF, especially if you're used to working with SSIS (in SSIS you do whatever you want, the license/server is already paid; you only risk having a slightly higher electricity bill. In ADF, you must be careful what you do or you rack up costs). The book mentions to shut down IRs to save costs and to minimize DIU in the Copy activity, but that's about it.
What I really liked about the book was that at the end of every chapter (and sometimes in between) there were paragraphs "for the SSIS developer", explaining any similarities or differences between SSIS and ADF. Coming from the SSIS world, I really appreciated this.
Conclusion: definitely recommend the book if you're just starting out with ADF.
The post Book Review – Azure Data Factory by Example first appeared on Under the kover of business intelligence.