On April 5th, I started printing ear savers for healthcare workers. I started with a single Ender 3 Pro printer with a .4 nozzle. When I made a post on Facebook tagging a few family members and friends asking if they needed ear savers, I had no idea how my life was about to change. I blogged on April 13th about my journey up to that point with details of my primary printer and the modifications I had made to it. Since then, several friends have gotten started in the 3D printing world.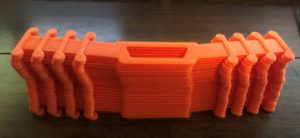 Within a few days, I had request for over 4000 ear savers and a single printer was not going to be enough to meet the demand. I quickly started trying to locate additional printers, however Amazon was sold out and I tried buying two off of Ebay. One was a scam and the other was a blessing. The blessing was getting to learn about Quip Print based in Tampa Florida. This is a service disabled Veteran owned business and Chris is wonderful to work with. I've ended up purchasing three additional Ender 3 Pro's and 45 spools of PETG filament from him. A friend has purchased at least 40 spools and several other friends have started purchasing from him too.
Fast forward to May 21st and I have 4 printers mostly running 24/7 printing 10 ear savers each at a time. Roughly 40 ear savers every 3 hours with a .6 nozzle. For over a month I was getting up every 2 hours and 45 minutes to reset print jobs. My evenings were spent cleaning up the ear savers with a heat gun, addressing envelopes, or printing shipping labels for flat rate USPS shipping boxes. I'm currently caught up on orders and have been able to skip a print cycle so I can get uninterrupted sleep. I forgot how wonderful that was. It was like having a newborn back in the house.
On May 21st, I printed my 10,000th ear saver. 10,000 ear savers people. That is a big number. With that, I have used approx 35 kilograms of filament. That would be 35 1 kg spools of filament or 77 lbs. If 1 kg of PETG filament is approx 332.6 meters in length, I've consumed 11,641 meters of filament. For us American's, that is 38,182 feet. That is 7.23 miles of filament.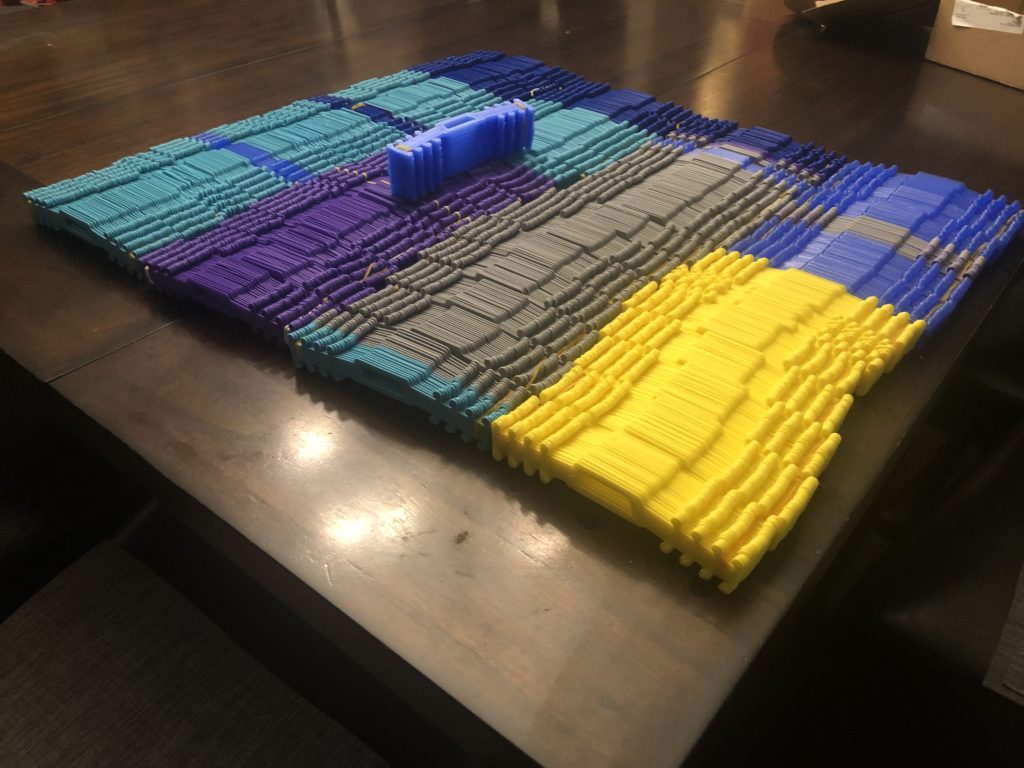 Being a data person, I've kept certain stats on my printing endeavors.
I've shipped ear savers to 45 of the 50 US states. Only Maine, New Mexico, Pennsylvania, Rhode Island, and West Virginia remain.
I've used 282 first class forever US postage stamps, 16 small flat rate USPS boxes, and 5 medium flat rate USPS boxes.
I've had 151 unique request for ear savers totaling nearly 10k request.
I've printed with the following PETG filament brands. Hatchbox, Overture, Paramount, Amazon Basics, eSUN, and Polymaker.
I've learned a great deal about 3D printing over the past 6 weeks. I've had to replace failed fans, clean numerous clogs, replace bowden tubes, replace nozzles on each printer more than once, switched to glass beds, and so much more. PETG filament isn't much harder to print than PLA, but it sticks much better to the magnetic beds I had been using. The magnetic beds would deteriorate at what I thought was a fast pace. After I did the math on the amount of prints I was doing per day, I realized the beds were holding up rather well, but at $20 a piece to replace, I decided to go with glass. Now I am having to use glue sticks as a bonding agent and as a buffer to more easily remove the PETG once it cools. See – lots of learning during this process.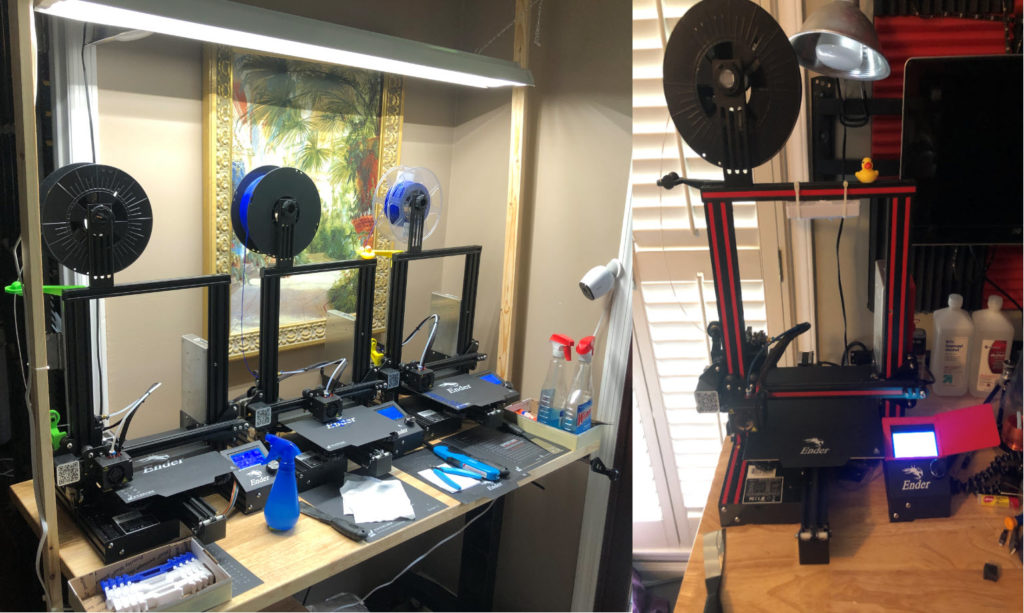 It's all been worth it. I've had tremendous support from my scouting community, SQL Server community, and friends and family. Without you all, I wouldn't have been able to scale to the level I have.
I've received so many thank you notes and cards in the mail, numerous texts, messages on Facebook, Twitter, and regular email. Its been humbling and so rewarding to be capable and able to help out like this.
If you or someone you know could benefit from ear savers, please reach out via email.