I've been managing backups of my video files using USB hard drives for a year, and I'm fed up. I currently have 3 drives, with video, and pictures, spread across all three, none backing each other up, and files off my various machines. To add more hassles, I also have issues with my XP desktop not allowing people to log in remotely and access files. My wife used to back up onto my desktop, or grab photos off there. I'm sure that's not something that's too hard to fix, but I don't want to spend a few hours digging in there.
I also needed an external drive for my VM work, wanting to put SQL Server on one of my disks, but they're all almost full. So that spurred me to look at solving both problems at once.
Last year I asked Cali Lewis, of Geekbrief, what they did for backup. They shoot a daily podcast, generate more formats and storage than I do, and I was curious. Since Drobo is a sponsor of hers, I should have figured it out, but obviously they use a Drobo.
This morning I tweeted my followers asking what they thought. I mentioned I was considering a Drobo and wondered what other people did. I got a couple of USB drive responses, even with NAS add-ons, but those don't really help. What I really wanted was:
Something with data protection (RAID)
Multiple drives and expansion. I think 4 drives is plenty for me.
Network access
Ability to schedule backups.
I was considering a Drobo with 4 drives, since it looks like a nice device. I can add drives as I need them, multiple sizes, and allow the Drobo OS to balance the data across these drives and provide protection.
The base Drobo only has Firewise and USB ports, but I can add network connectivity if needed. However the Ethernet addition is $200, on top of a $500 device, so I'm at $700.
That's not too expensive for protecting my data, but it's a bit more than I'd like.
I also get a basic backup device that I need to use the Windows backup to schedule data moving from my machines or the iMac to the device. There are some apps that will stream media off this device, so it would be a nice central solution for the family.
However one thing that concerns me is that if the Drobo goes down, those drives aren't readable anywhere else. I'd need another Drobo to access the data.
Someone tweeted back, actually a few people, that I should look at the MediaSmart server from HP. My first reaction was really, a Microsoft Home Server? I haven't heard great things about them, but to be fair I haven't heard much at all.
So I Google'd and asked a couple questions on Twitter. I found a few reviews, but this was one someone sent me from SlashGear.
As I read it, it seemed like they really had done a good job with this product, and it supports MAC OS as well.
It's a 64-bit CPU, albeit Celeron, and it has 2GB of RAM. At $500, the price compares favorably with other servers I've priced, and this one has lots of features. I verified that it saved sata on multiple drives, and that you can add drives of different sizes. I also l like that it has Amazon S3 backup integration. I'm not sure if I want that, but it's a good option.
It also has a lot of options for streaming data from other computers, especially media (pictures, video) and sharing it. I really like that since that's a lot of what I deal with these days. All my writing can be backed up on a USB key since the text is small, but the video and pictures, especially pictures, are important and too big to manage effectively.
D-LINK NAS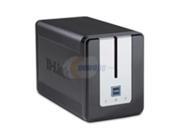 My other choice, is NAS of some sort. I had this D-Link 2 bay NAS enclosure recommended as well. It has a network interface that allows FTP and SMB access (file shares) and can handle RAID 1. It has a USB printer port as well, which is very interesting. We could use some printer help, especially since ours wants a new network interface ever time the power cycles.
This device is $157 from Amazon, but without drives. I could add 2 1TB drives for
about $200, so this is basically a $350 solution. The other thing is that this is a completely manual solution. I'd have to script the backups, and manage them going to and from the machine. I'm not sure about streaming stuff, though I suspect that I could let each machine access it as a file share and pull data off it.
Thoughts
The MediaSmart server is $500, but that's with one drive. Adding a second for protection gives me $600, or $250 more, but I get a lot more, management of files to prevent duplicates, streaming access for more devices, including iTunes, and it automatically looks for new media files. That's an interesting plus.
It's a business cost to me, and $200 doesn't seem like a lot. I'm really leaning towards a Windows Home Server, both for the testing and the convenience. I'll do more research, but that's my first thought.