AnandTech has another I.T. oriented post up comparing the performance and value of two-socket servers to four-socket servers. The gist of the story is that in most cases, a dual-socket system based on the Intel Xeon 55xx CPU performs as well or better that either a quad-socket Intel Xeon 74xx or a quad-socket AMD Opteron 84xx.  Both the Intel and AMD quad-socket systems are hex-cores, so they have 24 total cores, vs. 8 total cores for the two-socket Intel Xeon 55xx (although you can enable hyper-threading to get 16).
In some of the benchmarks, the Opteron 8435 had an advantage (see below)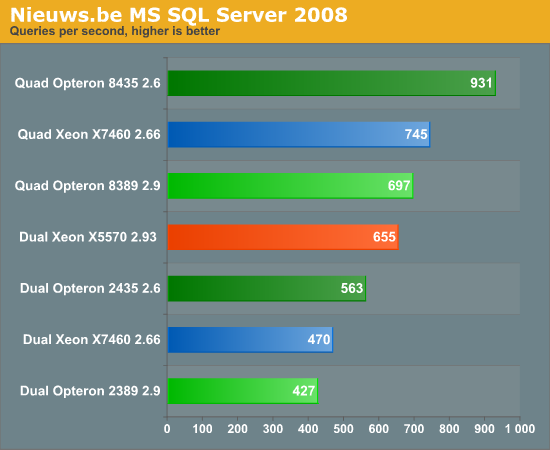 The bottom line is that unless you need more than 72GB of RAM in a server, a dual-socket system with the Intel Xeon 55xx is extremely hard to beat, from a raw performance or value perspective, for virtually any type of workload.  The 72GB limit comes from the fact that dual-socket, 2U Xeon 55xx systems typically have 18 memory slots (18 x 4GB = 72GB), and 8GB sticks of DDR3 memory are still frightfully expensive.
I am currently working on a server consolidation project, where I will be replacing four Dell PowerEdge 6800 servers, and four Dell PowerEdge 1950 III servers with a single Dell PowerEdge R710 and a single Dell PowerEdge 1950 III.  The older servers cost about $150K, while the new servers cost about $15K, not to mention the savings in administrative costs, power costs, and SQL Server license costs.  I will write about this consolidation project in much more detail in the near future.