A few notes from our trip to Madison for SQL Saturday. We arrived two days early and acted like tourist for the first two days, here are few notes: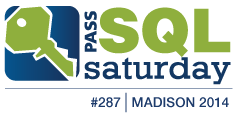 Food
Monty's Blue Plate Cafe – Small place, yet excellent meals, large portions worth the wait.
Great Dane – great atmosphere, neither of us enjoyed the food.
The Old Fashioned – brunch stops PROMPTLY at 10:59, 11am need not apply.
The Old Fashioned – lunch is amazing. counter service only, best cheese curds we've ever had.
Tipsy Cow – will live up to its name, you have been warned.
Benvenuto Italian Grill – super large portions, best part was talking to the other speakers. Although I ended up sitting next to, and talking to my Confio friends for most of the dinner, it was still a good time.
Ale Asylum – Stopped in for a quick drink with a couple of speakers, nice little Brewery
Cracker Barrel – Its Cracker Barrel, but the company was top notch, thanks Brent.
Brass Ring – the after party, lots of Badgers fans, service was ok, dinner was good, the company was the best.
The Event
Venue: American Family Insurance training center was very nice, large rooms, nice facilities. Did get warm in the rooms throughout the day.
Keynote – I really liked how the first session was a walk through the day's events, other events tend to hand info bags and assume everyone knows what to do, this set a good tone.
Rooms – each room had a volunteer room monitor or two, who would pass out and collect speaker evaluations, which as a fairly new speaker, was awesome. Mine was the best, click here to show appreciation: @DBAGooner for President #sqlSatMadison
Sponsors – There were several vendors I've seen and met before, Confio, PASS, and a few other local sponsors, but there was one segment who I thought was very much missing, recruiters. There were literally NO recruiter as sponsors, which was ok, but a different make-up than I'm used to.
Speakers Room – was great, always had a few folks in there prepping for their sessions, reviewing each others slides, and generally poking fun as you would expect from members of the #sqlFamily
Schedule – I didn't review the speaker emails well enough and was caught off by the 75 minute sessions, but I ended up liking the longer sessions as I was able to get more into the underlying functions and theory rather than just the tools.
Lunch – was build your own taco, which was ok
Raffle – End of day raffle was great with lots of nice items going out, several folk were on a streak taking home two or three things
Other
Weather – Wisconsin is cold in March, bring a jacket, or buy a new one as my wife did
Airport – is quaint and easy to navigate, TSA is a little more stringent at these smaller ones
Hotel – had a kid convention or something that required a bunch of 10-13 year olds to be roaming in packs, but they did let us check in early so we could take a nap.
Over all we had a nice little mini-vacation where the wife and I could spend sometime together and I could practice my craft and learn more all at the same time. Nat and I invited everyone we met down to Florida to show them how to enjoy winter in shorts rather than multiple levels of clothes. Depending on our schedule, we will definitely try to make to back to Madison next year.