I mean, it can't be that my calendar shows December and the year is almost over? Alright, I see I definitely have to work on my time management. For now, let me complete the reports of events I have spoken at, and for next year I will try to find another rhythm for my blog posts.
First there was SQLSat Paris in beginning of July (actually on the last Saturday of our vacation

), which this time took place not in the Montparnasse tower, as I had hoped, but in the "Le 253" near the Place Stalingrad. Organized by Belgian MVP Isabelle van Campenhoudt (b|t) and Frenchman Jean-Pierre Riehl (b|t), this event hosted around 70 attendees and 20 speakers in a nice venue, with a patio where you could mingle with the others during the breaks.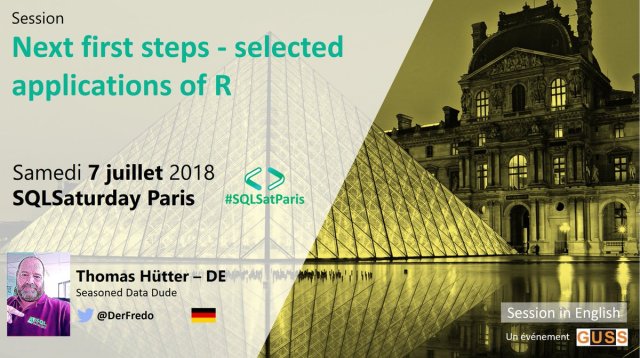 One gig that evolved rather fast for me was SatRday Amsterdam. From submitting to holding the talk on September 1st it took less than two months, including confirmation, booking travel and hotel. This was one of two events with the biggest attendance and best reception I had this year. There were probably around 80 people in the room, all R enthusiasts, listening to me doing an R talk!

But then, they didn't have much choice, as there was only one track – a fact I wasn't aware of when I submitted. Thanks to the Dutch crowd, I had some jokes in between and some nice feedback after my session.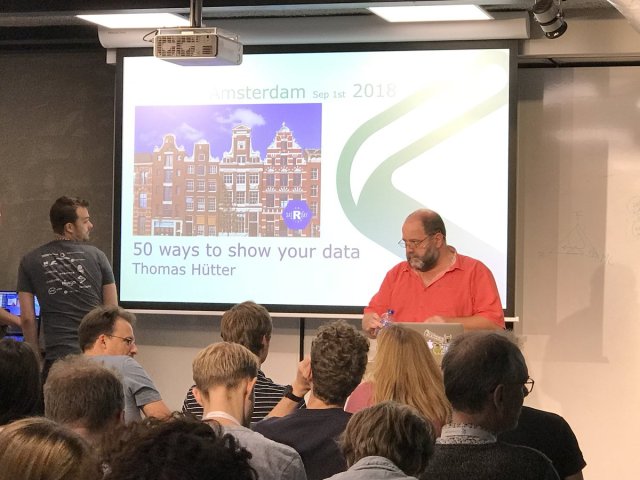 One event I was pushed to submit to by my buddy William Durkin was SQLGla, now rebranded to Data:Scotland. Another user group meeting that has developed into a full day event. Very well organized by the team around Craig Porteous (b|t), this event gave us the opportunity to visit Glasgow once again. Planning the travels I learned that booking a flight from Düsseldorf to Glasgow via Amsterdam was way cheaper than just taking that same flight from AMS.

At Schiphol we met up with about half a dozen other speakers, so that felt like a family trip already.
October saw me traveling to the SQLDays in Erding near Munich for the second time, where I did one R and one SQL session. I would call it a successful event, even though the organizer in charge failed to supply me with a beer after my session (things you can learn from the Grillen event…), I quite enjoyed those two days in Bavaria.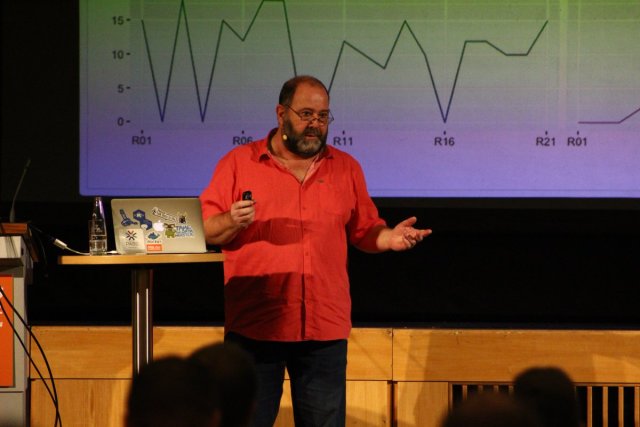 For November there was the Join!Conference in Warsaw, Poland, on my schedule. I had spoken at the 2017 edition, and was invited again by Maciej Pilecki (t), this time even to do three sessions. The venue was the Digital Knowledge Village, Maciej had organized a Speakers Dinner as well as a "pizza and beers" evening for everybody – well done!
Topping the year off (and I really mean it) at SQL Saturday in Slovenia. I had a full room, with all ca. 50 seats taken plus several people standing – for an R session at a SQL event, that was a first. Everything was splendidly organized by Dejan Sarka (b|t), Matija Lah (t), Mladen Prajdic (t) and Tomaz Kastrun (b|t): they came to pick everyone up from the airport (and made sure you were there in time for your return flight), had set up a speakers Dinner as well as an informal one, had shuttles ready for the latter and for getting to the venue… their hospitality has always been legendary, now I can confirm from first hand experience: it is real! Gaby and I had an awesome time in Ljubljana. Hvala!
To sum it up, in 2018 I gave 17 presentations on 14 occasions, in Germany (5 of them) and 9 other countries, if you count Scotland. Only to two of them I was sent by my boss. The rest took place more or less in my spare time, which might explain why I had no days left to take off between Christmas and New Year. Four events fully covered travel and accomodation costs, 3 others paid one hotel night – the rest? I guess they call it "giving back to the Community"…

For next year, I would think an average of one event per month would be OK. Hopefully I will find some more time for blog posts and other articles.
For now: best wishes, Season's greetings & see you on the other side of New Year's Eve!