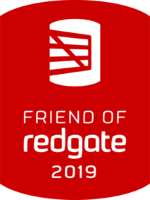 I am very proud and happy to be a Friend of Redgate for a ninth year! I had to ask Redgate when my first year of acceptance into the program was and they confirmed it was 2011. WOW, what an honor to be part of this program for so many years.
If you're not familiar with the Friends of Redgate program, the Friends of Redgate, or FoRG's, get to work with the Redgate development and product teams to provide feedback on products, new tools that they are working on, and feature enhancements. Many of us FoRG's can be found speaking at events, writing articles on Redgate tools, and participating on the Redgate forums. I've been fortunate to speak at various SQL in the Cities in previous years, sponsored to attend SQL Saturday events and User Groups to share knowledge on Redgate tools, and even participate in Beta programs. It's been a blast and I am looking forward to the 2019 year.
Redgate has been a great company to be connected too. If you aren't aware, they have a publishing arm known as SimpleTalk. Many of their books are free, or you can purchase them on Amazon. Check them out books.
Thanks Redgate for another year of me being a FoRG!