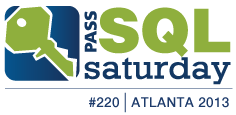 That latest installment of SQL Saturday Atlanta was just announced. On May 18th 2013 SQL Server experts from all over will come together in Atlanta GA for a full day of free training.  I have been part of the previous two years SQL Saturday events in Atlanta and have had a blast volunteering and helping to put on such an incredible event that changes peoples careers and lives.
This past year for SQL Saturday 111, I recall various attendees and speakers referencing our event as the "SQL Family Reunion". I must say that for SQL Saturday #220 we are aiming for the same feeling. We anticipate over 900 registrations. Last year we had over 170 sessions submitted for speakers. Over the past 1 hour that our event has been live to register and submit sessions we have had 5 speakers sumbit sessions.
If you would like to attend or submit sessions, makes sure to do so quickly.
Last year we hosted three pre-cons. We will have pre-cons again this year and those events should be live soon.
Visit our link and register today!!!