Hi there ho there everybody! It's less than five (FIVE!) three (THREE!) one (ONE!!) week until the 2012 PASS Summit in Seattle, I am now the Fearless Leader for a group of PASS Summit First-Timers!  Again! This is the page wherein I record all of my sage advice and such for them, and for any other first timer who wishes to come around. I will continue to update this page all the up to (and probably through) the PASS Summit in November, so check back for updates.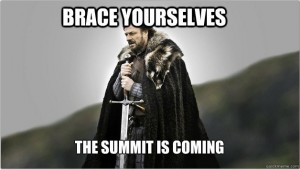 See my Summit schedule cheat sheet page for help in planning your week!  (Updated Oct 19 with travel info.) And, leave tips, comments and questions below.
Table of Contents
This blog post gets longer each year, so here's the contents:
Top 3 Tips – if you ignore everything else, read this.
PASS Prep – what to do beforehand.
QnA – Content – what the sessions are like.
QnA – Health – a few things you haven't considered.
QnA – Networking – getting to know youuuu…
Resources – what you can get on www.sqlpass.org
Countdown – a set of videos I did for the Summit countdown.
---
/*** Top 3 Tips ***/
I got a great question from one of my 2011 first timers: There's an awful lot of "before you get there" content, so what are the top 3 recommendations? Here they are:
Relax. There's tons of info out there, but frankly, you don't have to do much more than show up to have a great Summit. Go there, meet folks, learn stuff, have fun.
Take care of yourself. Sanitize, eat healthy(ish), drink water, sleep some, take care of your voice…if you do it right, you're going to talk a lot.
Talk to people. Talk to presenters after their sessions, vendors in the expo hall, people in the halls & at lunch, bigwigs you see at events and out and about…everyone there LOVES talking, and is very approachable.
Bonus tip: Bring business cards! This is a big deal for networking.
Double bonus tip: I'm about to publish another blog, with a simple-easy PASS schedule…it has all the events, luncheons, keynotes and such in one place! Check back for that in a sec.
Pretty much anything else you do is just creature comforts!
/*** PASS Prep ***/
Get on Twitter. A very large percentage of the commentary and coordination of any tech conference now happens online, so get on Twitter, follow me @MidnightDBA, check out the #sqlpass hashtag, and start getting a feel for how it all works. I posted a short YouTube video about Twitter as relates to the PASS Summit, and mentioned Brent Ozar's Simple Twitter Book. That should get you started.
Packing, power and connectivity:
Bring a power strip. It's such standard advice now as to be cliche. Even so, most people don't bring power strips, and there's usually a struggle to find outlets. The man with the power strip is a hero among captives. An extra battery wouldn't suck, either. And follow this mantra: Never pass up a chance to charge up. (For me, that applies mostly to my phone…)
Additionally, consider bringing an aircard (or somesuch method for getting online). While most people don't do this, as there is wireless at the conference and in some hotels, it's just not a bad idea if you're in need.
I consider it a good idea to bring a network cable for your hotel. Again, most places supply wireless or a wire connection, but I've seen places that charge for wireless, give wired access free, but have no cable. *sheesh*
/*** QnA – Content ***/
Can you share some info on the format of the sessions (is it all powerpoint? / are hard or soft copies provided? / is it common for folks to take laptops into the sessions for note-taking? ).
Sessions vary per presenter. Some are all PowerPoint, some are SQL demonstration, and most are a mix.

Hard copies are rarely if ever provided.

Slide decks and example code are sometimes available from the presenter's website, however.

It is extremely common to find attendees with laptops and tablets for note taking.

Finally, be aware that you can purchase the PASS DVDs, so you'll have the collection of all sessions for the year. It's well worth it if you can spare the money, even more so if your company will cover it (hey, cheap training for our staff) or you talk to your local user group about obtaining a set for the gang.
/*** QnA – Health ***/
Here comes the part where some of the Summit regulars boo and make fun of me. Go ahead, get it out of your system…okay.
The Summit is fun. We come together and see old friends, make new ones, talk shop, enter contests, go to parties…there's very much a feel of celebration in the air. Not to mention the free food and, occasionally, drink.
Pardon me for pointing out the obvious, but: Conferences are prime time for getting sick, and for getting others sick. We spend all day long shaking hands, trading business cards and swag, and sitting in close quarters. Consider, too, that the vast majorit of us aren't 22 any more, and you're probably going to need a few things to survive the week, like:
More than 4 hours of sleep.
Some small percentage of decent food mixed in with the free stuff.
Water. More water.
Sanitizer.
Something for headaches.
Throat lozenges. (If you do it right, you'll speak more than you've ever spoken in your life.)
Comfy shoes.
A teensy-tiny bit of moderation. I'm really getting tired of taking care of folk that had 8 too many one night.
/*** QnA – Networking ***/
Do you know if they publish names of attendees anywhere to facilitate networking? Yep, here on the Summit Who's Coming page.
Also, see "Get on Twitter", above.
Also-also, see the SQLPASS Connect pages. They've got some good resources and events listed. I'll do my best to compile a list of everything going on below, and update it as things are added…historically, there's no one page with all the events by date.
/*** Resources ***/
The PASS Summit website contains lots of good info, including session abstracts, speaker bios, a schedule builder, social events, attendee list, and more.  On the site is the PASS Summit First Timer's Guide, with lots of good info.
/*** Countdown ***/
Last year I did a video countdown to the PASS Summit on my YouTube channel. Here's the listing:
(I totally skipped day 7….seriously, this is a lot of videos!)