I can't tell you how many times I've sat in a training room, in the middle of a week long conference, and thought "You know what would really make this? Snorkeling and shuffleboard after!"  At last, my wish has come true.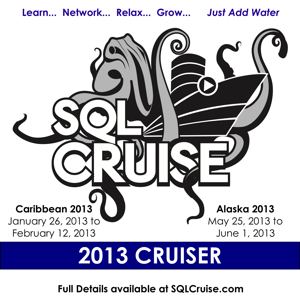 This January, Sean and I will be boarding a great big giant Norwegian Cruise Line ship for a week of top-notch SQL Server training – some of which will be provided by Sean himself – and relaxation.  What on Earth am I talking about, you say? My friend, let me introduce you to SQL Cruise!
SQL Cruise is just what it sounds like – a week of SQL Server training by some of the top minds in the database world. If you really want to talk about immersion training, think about this: You're out in the ocean, with some of the top minds in SQL…that means after-class access for questions and afterthoughts. It means a lot of good time spent with good people. And of course, there's the after-class instant vacation!
If you're new to the concept, read the registration page.  I'm sure you have questions: Check out the FAQ.  Do the math…counting registration, hotel, and travel, a SQL Cruise costs less than a week long conference, counting in hotel and food!  (And you'll have a far better student-to-teacher ratio on the Cruise.)  Finally, if you're on Twitter, follow @SQLCruise.
You can do this. You should do this.
See you in class!
Jen McCown
www.MidnightDBA.com/Jen
P.S. You, too, can write your very own SQL Cruise blog using the spiffy images provided at the SQL Cruise Media page.
If you or your company needs some professional SQL Server help,
check out my new consulting services at www.MidnightSQL.com!