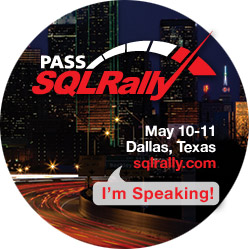 Two days of precons.
60 regular sessions over two days.
The now-famous Women in Technology luncheon.
Open access to Microsoft Customer Service and Support engineers and the SQL Server Customer Advisory Team.
And you're not GOING? Are you SERIOUS?!?  Do you have any idea how easy it is to fly to Dallas? We have TWO major airports! TWO!  The hotels here are cheap, the freeways easy, the weather warm and cozy.
AND-AND-AND, our major signature thing is to have Paciugo gelato* for one part of the event! No other city in the WORLD gives you Paciugo as a standard part of their SQL event planning, and that's a fact, Jack.
Rally is cheaper than Summit, closer (for a lot of you) than any other conference, and more awesome than ZZ Top in concert**.  Go register online today.
Happy days,
Jen McCown***
*Gelato is ice cream, only awesome.
** Assuming you're a ZZ Top fan.  Okay, maybe Rally is as awesome AS ZZ Top in concert. Note: ZZ Top is from Texas.
*** I made it all the way to the end of my blog before mentioning my session, and Sean's TWO sessions at Rally!