I particularly enjoy SQL Saturdays in Atlanta for a few reasons. It gives me an excellent excuse to come out and see one of my best friends from college, Georgia is simply gorgeous, I get to see a TON of my SQL friends, and Atlanta UG….well you know, Atlanta UG puts on a damn fine SQLSat. This year was no exception.
Great signage, great venue, great speaker lineup, great snacks and drink lineup, (okay, the boxed lunch sammiches were mediocre, but whaddya expect for $10?), etc etc etc. In short: Very good job, ATL.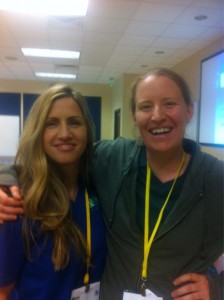 I had two sessions, plus an unofficial lunch session – more on that in a minute. In my morning Intro to T-SQL class was completely full, and went really well. I threw chocolate and crackers at people, and the guy who asked first got the ticket for the free book. Adorable fan / genial stalker @SQLThugette (see pic) asked for a picture, and I was delighted to oblige.
In my afternoon session (the T-SQL Brushup, aka Forgotten T-SQL), many laughed, few slept, and much was learned! This time, the guy that laughed loudest got the free book ticket. I'm a sucker for suckups.
Note: All of the sessions I present a events, plus recordings and scripts are on my Sessions and Pubs page.
So, the unofficial lunch session. A week or two back, @DataChick Karen Lopez and I were discussing the women in technology movement, and she mentioned that (since there wasn't a WIT session at SQLSat ATL) she'd like to have an unofficial WIT session. I jumped RIGHT on board, and we did. We gathered with a few people – men and women – in the gorgeous Georgia sunshine and talked about mentoring, outreach, and other good stuff we can do to encourage girls and boys in the direction of STEM and tech. I think I'll call this #WITeverywhere.
(Talk about synchonicity. I just popped over to Twitter to check in on the world, and found this tweet: @codingforkids @codeclub has launched – nationwide, after-school coding club for 10-11 year olds. 69 programmers signed up so far >> http://bit.ly/HKLLs5 )
IF you're looking for a recording or link, or something else I mentioned at the event, start here:
See some of you in SQLSaturday HOU this weekend!
-Jen