Today was also a good day. Sean and I both popped awake at 4:30am local time (6:30am personal time), for no appreciable reason. This didn't do us much good on the sleep front, but we did have a nice breakfast in the Sheraton restaurant.
It's been another day o fun at the Insider Sessions on the MS campus, so again, not much I can tell you. However, let me point you to the COOLEST non-NDA thing I wandered around in today, SQL Server Denali CTP3 Analytic Functions (link goes to current BOL).  You might want to look first at Itzik Ben-Gan's article on this, Improved Support for Window Functions in SQL Server Denali CTP3  (As Maria Zakourdaev said today on Twitter, "The good teacher explains. The superior teacher demonstrates. @ItzikBenGan inspires.")
 Aaaaaand here's me having lunch with Gail Shaw (Twitter) and Kalen Delaney (Twitter). Picture by the adorable Jorge Segarra, better known as SQLChicken (Twitter).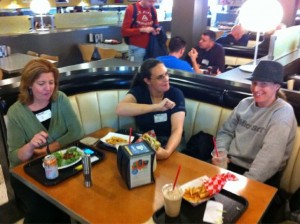 To get you in a little on the "networking" side of things, here are the most recent blogs (and such) of a few folks I was lucky enough to talk to today:
If you're here, remember to make use of the free PASS Summit 2011 Cheatsheet I made you…either print one for yourself, or get one from me or Sean. And tonight is the First Timers Orientation and Networking Session AND PASS Summit 2011 Welcome Reception and Quiz Bowl!
If you're not here, remember to follow along at home with my convenient guide. 
Happy Summit!
Jen McCown
http://www.MidnightDBA.com/Jen