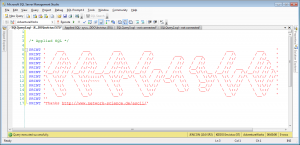 I found myself saying this week – for the N-zillionth time – that while studying is vital, it isn't everything.  What do we really need to understand SQL Server and internalize it?  Practice.
Bearing this in mind, I'm starting up an Applied SQL series of blogs, with the sole purpose of giving you homework. You're welcome.
No really, you're very, very welcome.  If you work through the exercises in these blogs, you'll start thinking, working, exploring, and really internalizing SQL Server. With any luck, you'll start assigning yourself work as you read blogs and study books. 
So here comes the first of many blogs dedicated to Applied SQL. 
Each assignment includes prerequisites, reading, and different levels of assignments.
Read, work through, ask questions, and if you're feeling froggy, post your solutions in the comments.
I will post my solution in the comments, too. I strongly recommend that you work out the solution on your own first. You will get a lot more out of figuring out your own solution (before reading mine), and there is often more than one way to get the correct result.
You can see ALL the Applied SQL blogs (including this one) on the Applied SQL page.
Since it's universally available (and familiar), I'll probably use AdventureWorks for my assignments and solutions.
And as always, if you have suggestions for Applied SQL topics, leave a comment or email me!
Happy learning,
Jen McCown
http://www.MidnightDBA.com/Jen