Well hey-howdy-hey (as we don't say in Texas), it's Women's History Month!  And by all accounts, it's going to be a busy one in SQL-land!  Among other things, I'll be joining in the WIT SQL Lunch next week* as a panelist. In the course of discussing this with my co-panelists, I had a thought.  "Wouldn't it be useful," I thought, "to have a PowerPoint presentation template for Women in Tech talks?"
Yes. Yes it would.
I therefore present to you your very own, ready-to-use, modifiable WIT session PPT template! Note: I'm experiencing weird behavior from that file; it tries to download as a .ZIP file.  Until I get this fixed, just save it to your drive as "WIT.pptx" (not WIT.pptx.zip) and the file will behave.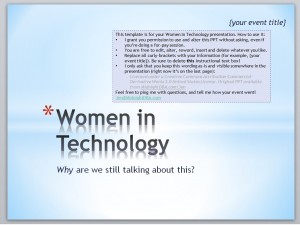 This "template" also available in Powerpoint 97-03 format, which has no weird download issues.
Take, edit, use, and let me know how your session went!
Happy days,
Jen McCown
http://www.MidnightDBA.com/Jen
*SQL Lunch details to be announced.