Dallas' first SQL Saturday "was full of nothing but smooth, rich #awesomesauce." And we had Italian gelato.
Dallas' second SQL Saturday (BI edition) "had over 200 attendees, very near the venue's capacity." The venue was the Microsoft campus.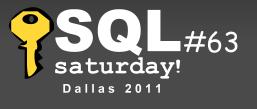 Dallas is two for two, pure #WIN on SQL Saturdays, and you want to be a part of it. Oh, yes you do. The call for speakers for SQL Saturday #63 closes on Tuesday February 15.  Brush off your abstracts and get them in soon!
Happy days,
Jen McCown
http://www.MidnightDBA.com/Jen
For more on us- and Dallas-related SQL Saturdays, see my blogs: