Hello and welcome to the first T-SQL Tuesday of 2011!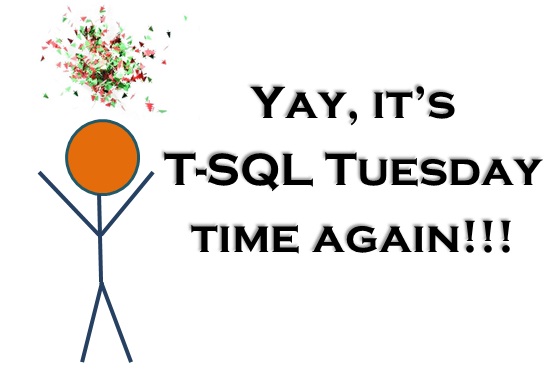 2010 was a great year for T-SQL Tuesdays, dreamed up and instigated by Adam Machanic (blog, Twitter) in December of 09 (see his recent blog T-SQL Tuesday Meta Roundup).  So tell us, Adam…what is a T-SQL Tuesday?
Each month a blog will host the party, and about a week before the second Tuesday of the month a theme will be posted. Any blogger that wishes to participate is invited to write a post on the chosen topic. The event is called "T-SQL Tuesday", but any post that is related to both SQL Server and the theme is fair game. So feel free to post about SSIS, SSRS, Java integration, or whatever other technologies you're working with in conjunction with SQL Server. Even if your post includes no T-SQL we still want to see it. 
Sa-weet.  The topic I have chose for the inagural 2011 T-SQL Tuesday is….wait for it…….
Resolutions!
So tell us: what techie resolutions have you been pondering, and why?  Are you heading for a certification? An award? Are you looking to pick up CLR because that guy at the Summit said it's "bitchin'"? Go crazy…
Da Rulz
Window of opportunity: Your post must go live between

00:00:00 GMT on Tuesday the 11th of January and 00:00:00 GMT on Wednesday the 12th

.
Show some love: Your blog post has to link back to the hosting blog, and the link must be anchored from the logo (found above) which must also appear at the top of the post.
Check your work: If trackbacks won't work properly then please leave a comment below so that your post is accounted for in the roundup.
Bonus points!!
Bonus points are like brownie points – there's no way to redeem them, but you feel good about it anyway. Earn some by using these brilliant suggestions:
Advertise! Include a reference to T-SQL Tuesday in the title of your post.
Tweet! Use the hash tag #TSQL2sDay to follow links and other relevant conversations.
Host! Consider hosting T-SQL Tuesday yourself. If you're interested let Adam Machanic Know. If you've participated in two T-SQL Tuesdays previously and you keep up your blog (blog monthly for the last six months) then he'll put you in the rotation.