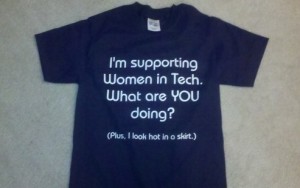 This shirt was specifically requested by an online friend who shall remain nameless (his name rhymes with "Duck Hoodie").  Another online friend (name rhymes with "Penny Sherry") recommended we get a bunch of those shirts from a local printer for tons cheaper. So I did.
14 are spoken for…10 remain. Who will pledge their $8 to secure one of these limited edition, hand crafted, personally delievered (at PASS Summit 2010) works of SQLKilt / Women in Tech-supporting awesomesauce?
(For the record, the following folk are down for shirts already: Me, Sean, Denny, Nic, Rob Volk, Roy Ernest, Kevin Boles, RumblingDBA, Mvelic, LynnMcKee, Grant Fritchey, CameronMergel, SQLChicken, and Just_Sampson).