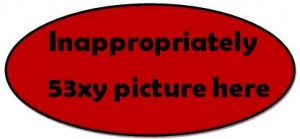 We're conducting S–3–X Talk Week here at the MidnightDBA #Awesomesauce blog. In the tradition of the first S-3-X week blog, we will continue using the clever analog for the "S" word – 53x – and we'll keep things on the up-and-up.
We spoke before about keeping 53x out of the workplace, and we'll expand that definition to include the professional sphere (user groups, conferences, etc). From the comments and discussion on SSC over the last several days, it's become clear that "keeping 53x out of the workplace" is an idea that needs some clarity.
First, a quick legal definition of "sexual harassment": "unwelcome verbal, visual, or physical conduct of a sexual nature that is severe or pervasive and affects working conditions or creates a hostile work environment".  Note the bolded words (emboldening mine)…unwelcome means that the target doesn't want it. AAAAND – there's an AND here, kids! – the conduct has to be SEVERE OR PERVASIVE.  More on that in a minute.
Here I present my thoughts on 53x and the professional sphere, from one woman's point of view.  You can't actually keep 53x entirely out of the workplace, and it's silly to try. But there's appropriate behavior, and then there's not:
Asking a co worker (co-conference attendee, etc) out is fine*.  In fact, it's a good idea: where else are you going to so easily find someone with similar interests?
Asking multiple times after getting turned down is not.
Asking a co-worker or subordinate is way, way out if it's in any way (even jokingly) tied to a threat or an incentive related to work.
Appropriate behavior is required.
If you don't know what appropriate behavior is, ask HR for their "53xual harassment and discrimination" videos again. Study them.  They were made with you in mind.
Dirty jokes in the workplace / during the conference proper aren't appropriate.  You're making somebody uncomfortable.  (And yes, this is from the girl who shouts "THAT'S WHAT SHE SAID" in every single DBAs at Midnight webshow, ever. That's not work – it's a free production that's admittedly and ecstatically in poor taste. Context, people, context.)
Likewise, commenting on a co-worker in a 53xual context is out of line. I know that guys compare notes on every female they see, but most of them are discreet enough to do it one-to-one, and out of hearing.  I don't care what you think of me, my body, or my romantic proclivities…your thoughts are your own. But don't be idiot enough to voice your opinions in a roomful of people. AWK-WARD…(ask me how I know. Actually, don't.)
Dressing for 53x appeal at work isn't appropriate. It's as ridiculous for a woman to show up at the office in 6″ heels, short pencil skirts, and a low-cut blouse as it is for a man to show up in a vintage 1930′s Army uniform…it entirely conveys the wrong idea, and it's very distracting.    I'm picking on the ladies here, and not the men, because I have seen women do this many, many times, and I have yet to see a man show up in an open front shirt with chains and too-tight slacks.  Or, you know, whatever the equivalent would be.
*Note to those highly sensitive people who think ANY romantic overture is sexual harassment: IT'S NOT.  The people in your workgroup should behave appropriate to work, but there is nothing wrong in expressing an interest to date (unless it's gross/explicit, threatening, or incentivized.  Reread the legal definition of sexual harassment , watch your HR videos and calm the hell down.
Now, a note to people who think, by this, that I'm marginalizing 53xual harassment: I'm not. It's a big, big problem…one that's addressed by laws, one that sees new lawsuits and injustices every day.  But with any big problem, there's some degree of reactionary hysteria. Let's spread the word so that both sides of the equation start to mellow out.
Conclusion: The place for 53x in the workplace is, by and large, on the back burner.
Happy days,
Jen McCown
http://www.MidnightDBA.com/Jen
P.S. Many thanks to the MULTIPLE folks who wrote to explain that for men, 53x is a "background process".