I first blogged about Power BI for Office 365 two months ago (see Power BI for Office 365) when it was announced.  Microsoft has started inviting participants subscribed to the Power BI for Office 365 Preview to test the prerelease version of Power BI.
Power BI is aimed at those starting to transition to BI and those who want to provision BI solutions in the cloud.  It combines some familiar and emerging Excel data modeling and visualization capabilities with cloud-based collaboration.  The aim, per Microsoft, is to empower knowledge workers in organizations to create their own data sets and queries in a "self-service" business intelligence (BI) scenario.
Many of the capabilities currently exist in Excel tools, and Microsoft considers Power BI for Office 365 to be an extension of its existing BI systems.  It is not a replacement for what you can do on premise, but you can go that route when you don't have BI on premise.
Here are all the components that make up Power BI for Office 365 (chart from :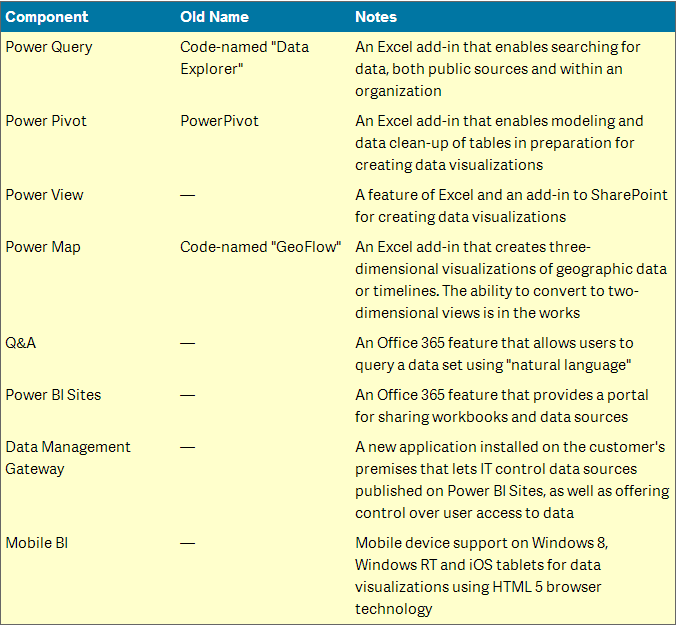 As mentioned in Jen Underwood's Microsoft Power BI First Public Preview, Power BI is limited to stand-alone, Office 365 hosted Excel 2013 PowerPivot files.  There's no Multidimensional or Tabular flavor of professional SQL Server Analysis Services in the Office 365 Power BI cloud world so Power BI is more of a Personal or Departmental BI offering.  The supported Office 365 Excel PowerPivot file sizes have greatly increased from 10MB to 250MB uncompressed (and with compression you can use much larger spreadsheets).
More info:
Microsoft Power BI First Public Preview
Power BI (Part 1 – Getting Started)
Power BI (Part 2 – The Data Management Gateway)
Navigating the Power BI Site in Office 365
Power BI Preview Review Part 2: Q&A
Microsoft Power BI for Office 365 – New Samples Video Launched – View Now!
Update Your Power BI On Premises Data Management Gateway
Microsoft Updates Power BI for Office 365 Preview with New Natural Language Search, Mapping Capabilities
Microsoft adds natural language search over data to Office 365
Power BI – Working With the Data Management Gateway
Power Map for Excel earns new name with significant updates to 3D visualizations and storytelling
First Look Office 365 Power BI
Video From Data to Insight & Impact: Preview of the Q&A Feature of Power BI